Highway 530 reopened as single lane near site of Oso slide
Event Date:
Saturday, May 31, 2014 - 12:00am
Highway 530 near Oso will open Saturday as a single-lane road for the first time since the fatal mudslides on March 22. Workers spent nearly four weeks clearing 130,000 tons of mud and debris off the 1.5-mile stretch of road.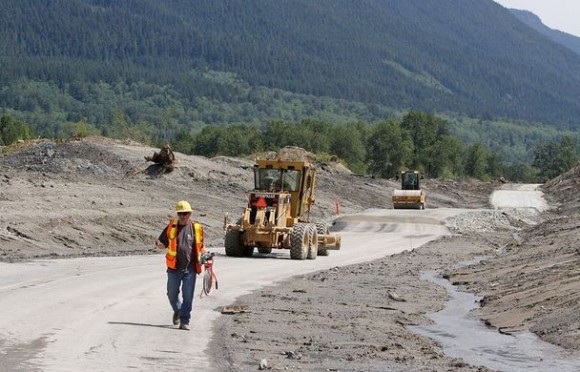 By Colleen Wright, Seattle Times staff reporter.
OSO, Snohomish County — The 12-hour shifts of marathon workdays are over in North Snohomish County.
Bibles, blankets and teddy bears have been returned to displaced families and to the survivors of the dozens who died.
Officials from Washington Department of Transportation and workers on site solemnly celebrated on Friday as the 1.5-mile stretch of Highway 530 between Whitman Road (milepost 36) and 310th Street Northeast (milepost 39) was cleared to reopen at noon Saturday, a week ahead of schedule.
"Significant milestones are occurring in this reconstruction," said Lorena Eng, northwest region administrator for Washington Department of Transportation.
Though the highway will be taking traffic, there will be delays through the slide area. Until a planned two-way replacement road is built in October, flaggers will let drivers through on the one-lane section with a speed limit of 25 mph.
In pockets where whole pieces of pavement were washed away, gravel takes its place. Community Transit bus service is set to resume June 9.
Clearing the road earlier than expected kept costs under budget, saving $1.5 million of the $4.9 million allotted to get the highway open.
WSDOT worked with IMCO General Construction crews to clear the debris. During the work, some displaced families came to the site — not to search in the debris, but to see where their homes once stood.
"In one sense, I'm extremely proud," said Tyler Kimberly, president of IMCO. "In another sense, I'm brokenhearted to be here."
When it opens, the new highway will be elevated 10 feet to avoid future flooding. WSDOT awarded the $20.57 million contract for that job to Guy F. Atkinson Construction on Friday afternoon.
Once a week, to allow work on the new roadway, traffic will be diverted to an access road, Eng said.
Brock Rylander, a field coordinator with Environmental Science Associates, held orientations to prepare workers for what might be found during excavation. Debris, Rylander says, still lies out there.
"The road's open, but there's still a lot out here that needs to be cleaned up," Rylander said.
While many workers came from out-of-state, some gravitated toward the work site.
Mark Lucas, 43, of Arlington, lives just four miles away. His sons played with boys who were killed in the mudslide.
Lucas applied through WSDOT to be a local spotter on site and went to work May 10. He spent 60 hours each of the first two weeks raking through mounds of clay and dirt finding personal items to be returned to the victims' families.
"When you first come out to the site, it's a little overwhelming," Lucas said. "I wanted to make sure there was a local presence, as far as the crew goes."