Port Angeles Reuses Giant Tank and Old Waterline to Store CSOs
DAILY JOURNAL OF COMMERCE, September 25, 2013. By Journal Staff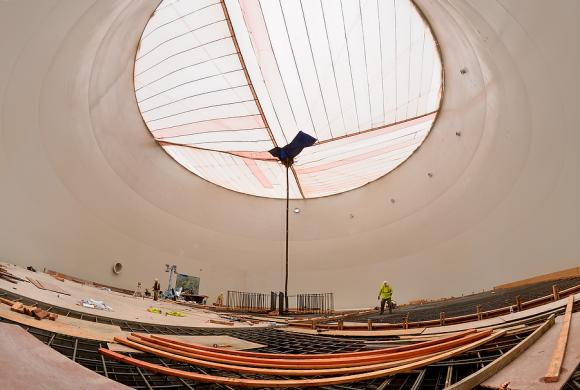 What do you do with a 5 million-gallon tank once it's no longer needed?

The processing tank had been used by Rayonier for its pulp mill operations, but the city of Port Angeles figured out a way to reuse it to store combined sewer overflows.

Recycling the tank is part of a two-phase, $40 million project to increase capacity at the wastewater treatment plant.

Imco General Construction modified the steel tank in the $16.3 million first phase. Crews resurfaced the interior and exterior, poured a concrete base and added a concrete flush column in the middle.

But the tank wasn't the only thing that got recycled.

The city was concerned about a mile-long section of 35,000 feet of new pipeline needed for the project that runs along the Olympic Discovery Trail near the shoreline. The worry was that open-cut construction could disturb native artifacts thought to be buried in the area. Excavation would have been within 10 feet of the shoreline.

The solution? Reuse an abandoned 48-inch-diameter industrial waterline that partially runs along the shoreline. Crews slip-lined about 17,000 feet of the pipe by simultaneously pulling a 30-inch-diameter and two 14-inch-diameter HDPE pipes through the old waterline.

Imco was able to squeeze all three lines inside the old waterline with help from Advanced Boring Specialists.Imco has been self-performing 85 percent of the first phase and expects to be finished before April 2014. Other work involves modifications to the treatment plant and building a 105-foot-long bridge over Ennis Creek.

Brown and Caldwell is the engineer, and Vanir Construction Management is the construction manager.

A city spokesman said design of the second phase is expected to be finished next summer. Construction will depend on arranging low-interest financing. He said construction could start in 2014 or 2015.

The second phase will replace a pump station, finish force mains that were partially built in phase one, build a new influent sewer to the replacement pump station, and install 2,500 feet of gravity sewer lines.

The reworked wastewater treatment plant will be able to handle a 50 million-gallon-per-day event, which is about two and half times its current capacity. CSOs would be diverted from the Strait of Juan de Fuca and Peabody Creek.

The city is reducing its CSOs to comply with a mandate from the state Department of Ecology.