Work to restart Monday on Mukilteo Ferry Terminal
Event Date:
Wednesday, April 29, 2020 - 5:45pm
Daily Journal of Commerce
By BENJAMIN MINNICK
Journal Construction Editor 
Work to restart Monday on Mukilteo Ferry Terminal
No word yet from WSF on when the $455 million Colman Dock project in Seattle will resume.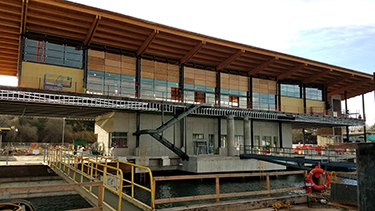 Photos from Washington State Ferries 
[enlarge]
After being shut down for over a month, crews are preparing to return to work on the $187.3 million Mukilteo Ferry Terminal project.
This may be the first major project to restart under Gov. Jay Inslee's April 24 notice that greenlights "low-risk" projects where 6 feet of social distance can be maintained between workers. Inslee's ruling is contingent on contractors having an approved COVID-19 health and safety plan in place.
Washington State Ferries spokeswoman Diane Rhodes said Imco General Construction, the general contractor working on the uplands part of the Mukilteo project, submitted a 30-point COVID-19 safety plan early and expects to return to work on Monday.
Rhodes said WSF accepted the plan with no exceptions. She didn't know the status of the subcontractors working on the site.
Requirements for low-risk projects developed by a roundtable of construction industry experts include having an on-site COVID-19 safety supervisor who can shut down the jobsite if violations are found, and verifying that workers' temperatures are below 100.4 degrees upon entering a jobsite.
David D'Hondt of the Associated General Contractors of Washington said Imco developed an early COVID-19 plan and then used newly created AGC documents to validate and augment its plan.
D'Hondt said the new requirements are hard to comply with right off because of a shortage of thermometers. "People have been scrambling to get no-touch thermometers," he said.
In-water work on the Mukilteo Ferry Terminal has benefited from a fish window, which closes that work between Feb. 15 and Aug. 1. Rhodes said the contractor doing that work, Manson Construction, left the site in mid-March as planned and will return when the window opens, with a COVID-19 safety plan in place.
Rhodes said Imco was slightly ahead of schedule before work stopped. Gaining momentum after the restart could be slowed by delays from material and equipment suppliers, she said.
WSF is evaluating the shutdown's impact on the project's schedule and cost. WSF planned to open the new terminal this fall.
Another big WSF job, the $455 million Colman Dock rebuild, has also been on hold.
Sharon Gavin, WSF spokeswoman for that project, said the agency doesn't know when construction will restart at Colman Dock and WSF is looking into whether the shutdown will delay its schedule. She said the jobsite has had safety and environmental inspections during the shutdown, and remains safe and secure.
The construction moratorium has suspended 65 construction projects for the Washington State Department of Transportation. Only eight projects, work on fish passages, were not affected.
WSDOT spokesman Lars Erickson said none of the shuttered projects has restarted.
Erickson said some contractors are ahead of the restart curve and all will need to follow the 30-point COVID-19 plan. He said restarting will be judged not by project type, but by the activities on the jobsite.
"Every project is going to be completely different," he said.
AGC of Washington members with low-risk projects have been taking the week to make sure they have everything in place to restart, according to D'Hondt, who is executive vice president of the association.
"There are some serious requirements and people are doing what they need to figure it out," D'Hondt said.
Seattle DJC: https://www.djc.com/news/co/12131666.html