$139M Mukilteo Multimodal Terminal Opens Next Year
Event Date:
Tuesday, June 5, 2018 - 8:15am
Featuring the Mukilteo Deep Storm Water Utility Project!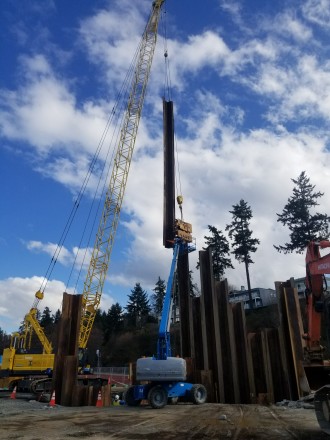 Written by Jennifer Rupp, CEG Correspondent
JUNE 5, 2018
Tribal leaders and elected officials joined Washington State Ferries (WFS) in August 2017 to celebrate construction of the new Mukilteo ferry terminal. The gathering represented a decade of planning and partnerships to deliver a project that respects tribal lands and artifacts and provides critical safety improvements at the state's busiest car ferry terminal.
"Investing in transportation infrastructure creates jobs and keeps our economy moving," said U.S. Rep. Rick Larsen, a senior member of the House Transportation and Infrastructure Committee. "This new terminal is a critical investment in the region's mobility network and will build upon the work of the city of Mukilteo and other stakeholders to increase the public's access to the waterfront."
The Mukilteo Multimodal Project relocates the Mukilteo ferry terminal to a decommissioned U.S. Air Force tank farm site, one-third of a mile east of the existing terminal. The project includes a new passenger and maintenance building, a supervisor's building, transit center and four new toll booths. Its location near the Sounder commuter rail station improves transit connections. Removal of the tank farm pier eliminates thousands of tons of toxic creosote-treated debris from Puget Sound.
The $139 million budget is comprised of a mix of federal and state funds. In 2016, Gov. Jay Inslee and Washington State Legislature approved funding to complete the project as part of the Connecting Washington transportation funding package.
The ferry route between Mukilteo and Clinton is part of State Route (SR) 525, the major transportation corridor connecting Whidbey Island to the Seattle-Everett metropolitan area. It is WSF's busiest route for vehicle traffic and has the second highest annual ridership, with more than 4 million total riders in 2015. During the afternoon peak commute period, walk on ridership is expected to increase 124 percent between 2010 and 2040.
There have been no significant improvements to the Mukilteo terminal since the early 1980s and components of the facility are aging and do not meet current seismic standards. The current terminal layout makes it difficult for passengers to get in and out of the terminal and contributes to traffic congestion, safety concerns and conflicts between vehicle and pedestrian traffic. The new terminal will improve operations and multimodal connections and safety.
Plans for a new multimodal center were set in motion in 2004 with a National Environmental Policy Act (NEPA) Environmental Assessment and public scoping meetings. However, in 2007, Washington State Legislature put the Mukilteo Multimodal Project on hold. Through 2009, a cultural resource study and geotechnical investigations were conducted. Agencies revised concepts to address public comments, minimize effects to sensitive resources, and meet seismic standards. The Washington State Ferries (WSF) and Federal Transit Administration (FTA) resumed the NEPA process in February 2010.
Once the environmental process was completed in 2014, final designs were under way. Phase 1 of the project began in June 2015 with the demolition of the tank farm pier and dredging. Pacific Pile & Marine LP of Seattle won the contract at $8.16 million. Work was completed in 2016.
Three contracts were let in 2017. The first was in March for the trestle and bridge seat pile procurement/pipe pile fabrication. The $1.2 million project went to Massana Construction Inc. of Puget Sound. Contracts 2 and 3 of last year kicked off Phase 2, which will go through 2019.
Orion Marine Contractors Inc. of Tacoma was hired in July for the trestle and bridge seat construction. This $4.6 million contract provides for the improvement of SR 525, Mukilteo Ferry Terminal and the MP 8.47 vicinity by constructing a trestle and bridge seat foundation, including steel piling, concrete work, slope stabilization, pedestrian trail establishment and other work.
The fall 2017 contract was celebrated with a groundbreaking ceremony as the deep storm water utility construction began. IMCO General Construction Inc. of Ferndale won the $2.3 million bid for construction of the deep storm water line, including outfall and other work at the ferry terminal.
Construction on the trestle and bridge seat is expected to be complete in June, around the time that construction of the main terminal building and holding lanes will begin. The current facility will remain open until the new terminal is complete in late 2019.
"This project is the culmination of years of work to replace an aging and seismically vulnerable terminal," said Amy Scarton, WSF assistant secretary. "It'll also make things easier for drivers and safer for people who walk on, all while freeing up Mukilteo's waterfront."
Link to the article here.