Boundary Dam Photo Featured in ENR's 2021 Year in Construction Magazine
Event Date:
Thursday, February 10, 2022 - 8:00am
Will Austin Photography was One of ENR's 2021 Photo Contest Winners Showcasing IMCO's Boundary Dam Project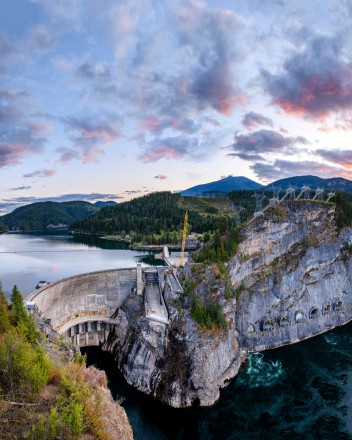 The Engineering News-Record (ENR) holds an annual photo contest showcasing photos of construction projects located around the world. Will Austin Photography submitted photos taken at IMCO's Boundary Dam project site and was selected as one of 40 winners to be featured in ENR magazines 2021 Year in Construction.
To view a slideshow of all the photo contest winners and read more about ENR's 2021 Year in Construction, click on the link here.
With this year's 40 photo contest winners appearing online and throughout the magazine, senior art director Scott Hilling curated the images to take the reader through a visual narration of the ups and downs many in the industry experienced in 2021. "Many of us started the year off stuck at home, facing dreary times and tough roads," Hilling says. "We faced isolation, with difficult and rough environments to navigate our way through. At times it felt like we had the weight of the world on our shoulders. So many unknowns left us overwhelmed. Figurative and literal walls were erected to protect ourselves, and sometimes we were left just staring at them. But as we struggled, people started to come together to help each other out. Gray skies lifted. Life felt a bit more normal. People were back together, supporting each other. Beautiful work carried on, and while things still can get dark again, we know how to persevere. At the end of the day, we can stand there knowing we can get through anything."

"Austin spent two days at the Boundary Dam site, which is in a remote location newar Metaline Falls on the Pend Oreille River. The day he took the shot, he worked for 17 hours - from dawn to dusk. "I was all over the site that day and I took a couple thousand photos," says Austin, a professional photographer since 2007. He was no stranger to his chosen for the photo shoot - a pubic viewpoint at the top of the cliffs about 250 feet above the dam and 500 feet above the river - having visited several times, both hiking and driving. For his final location of the day, he drove back up to the viewpoint in the evening, and using a wide angle lens, captured the dam and spillway work at sunset. "I waited for the twilight and was rewarded by beautiful cotton candy skies, "  he says. "It is always my aim to capture epic images like this for my clients."