Crews Remove What's Left of an 1890 Wooden Bridge Under Post Avenue
Event Date:
Thursday, December 28, 2017 - 9:00am
IMCO's Post Avenue Project in Downtown Seattle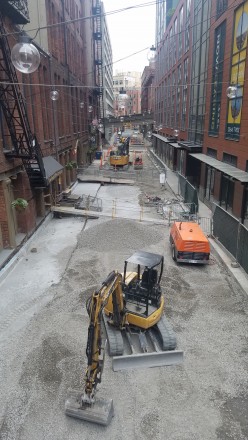 Daily Journal of Commerce article written By JON SILVER
A link to the full article can be found here.
"Crews from IMCO Construction removed the 127-year-old Post Avenue Bridge between Columbia and Marion streets, that was built over what had once been the Elliott Bay waterfront. The timber-pile bridge had been sinking for years, affecting the road surface and causing the sidewalk to slope awkwardly.

After removing the entire structure, crews replaced the soil underneath with a low-density fill material, followed by 6 inches of compacted aggregate.

The low-density fill — a cellular concrete — was used to avoid putting pressure on the foundation of the historic Colman Building. A polyethylene foam bond breaker will provide a barrier between the building and the cellular concrete.

Crews are now building the new roadway and sidewalk.

The sidewalk is for the east side of the street, adjacent to the Colman Building, in front of several businesses, including Owl N' Thistle Irish Pub and The Good Coffee Co.

The new sidewalk will be wider than before, and the street will be narrowed from 30 to 25 feet. The sidewalk on the west side was replaced in 2012 when The Post apartments were built.

Other related work included a new drainage inlet and catch basin, which crews installed on the Marion Street end. Seattle Public Utilities also replaced a water service line."