'Daily Journal of Commerce' Mukilteo Ferry Terminal Update
Event Date:
Wednesday, April 29, 2020 - 5:45pm
Work to Restart Monday on the Mukilteo Ferry Terminal
Daily Journal Commerce article by BENJAMIN MINNICK
A link to the full article can be found here.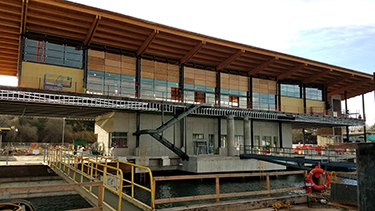 Photos from Washington State Ferries 
[enlarge]
"After being shut down for over a month, crews are preparing to return to work on the $187.3 million Mukilteo Ferry Terminal project.

This may be the first major project to restart under Gov. Jay Inslee's April 24 notice that greenlights "low-risk" projects where 6 feet of social distance can be maintained between workers. Inslee's ruling is contingent on contractors having an approved COVID-19 health and safety plan in place.

Washington State Ferries spokeswoman Diane Rhodes said IMCO General Construction, the general contractor working on the uplands part of the Mukilteo project, submitted a 30-point COVID-19 safety plan early and expects to return to work on Monday.

David D'Hondt of the Associated General Contractors of Washington said IMCO developed an early COVID-19 plan and then used newly created AGC documents to validate and augment its plan.

D'Hondt said the new requirements are hard to comply with right off because of a shortage of thermometers. "People have been scrambling to get no-touch thermometers," he said.

Rhodes said IMCO was slightly ahead of schedule before work stopped. Gaining momentum after the restart could be slowed by delays from material and equipment suppliers, she said."