ENR's "2015 Year in Construction" Photo Contest Winners
Event Date:
Monday, January 11, 2016 - 12:00pm
ENR.com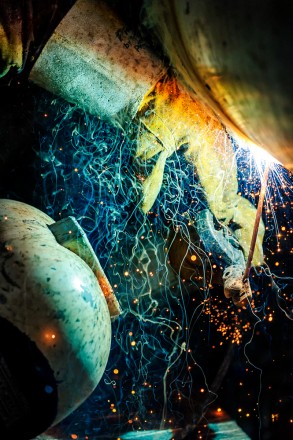 The diversity of colors, lines, angles, textures and people in the construction industry is reflected in the winning images of ENR's "2015 Year in Construction" photo contest. Ranging from bright-blue steel girders and the bizarre geometric forms of spooling cables to the array of workers toiling underground and high in the air, the pages ahead unveil a world of wonder on global jobsites.
1
Photographer: Will Austin
Pipeline Maintenance, Kinder Morgan, Sagit Co., Wash.
Submitted by Ashley Kimberley, marketing director, IMCO General Construction.
A welder sets a valve on a 20-in. crude-oil pipeline in a shot Austin calls "a very difficult exposure. It was cold with heavy rain. I got stuck in deep mud up to my thighs and had to be pulled out." Water entered both the camera and the lens, "but they survived."
Link to ENR.com article and gallery here.