Grand Opening of IMCO's Meydenbauer Bay Park Project
Event Date:
Monday, March 4, 2019 - 8:15am
First Phase of the Bellevue Park includes a Pedestrian Pier and Larger Beach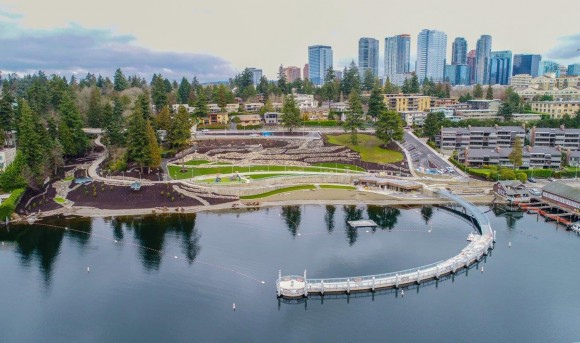 Seattle Daily Journal of Commerce article written by JOURNAL STAFF
A link to the full article can be found here.
"The city of Bellevue will hold a grand opening for an expansion and revamp of what is now called Meydenbauer Bay Park from 11 a.m. to 2 p.m. March 16 at 9899 Lake Washington Blvd. N.E.

The $19 million project relocated and expanded the swimming beach at what formerly was Meydenbauer Beach Park, built a new beach house with restrooms, changing areas and showers, remodeled the historic Whaling Building, and added a curving 420-foot-long pedestrian pier.

There's also a new hand-carry boat launch, pedestrian promenade, children's play area, pathways, picnic areas, restored shoreline, improving parking and a vehicle overlook and viewing terrace along Lake Washington Boulevard. Some power lines were moved underground and a pipe near the beach was removed to create a natural ravine.

The first phase team included Anchor QEA, lead designer; IMCO General Construction, general contractor; Salt Studio, architectural consultant; Perteet, surveyor and transportation engineer; Moffatt & Nichol, structural engineer; Cross Engineers, electrical engineer; Rainbow Consulting, mechanical engineer; and William Stewart Design, irrigation consultant."