'IDAHO BUSINESS REVIEW' FEATURES IMCO, LEWISTON WATER TREATMENT PLANT PROJECT
Event Date:
Friday, April 16, 2021 - 8:00am
Lewiston to Replace 100-Year-Old Water Treatment Plant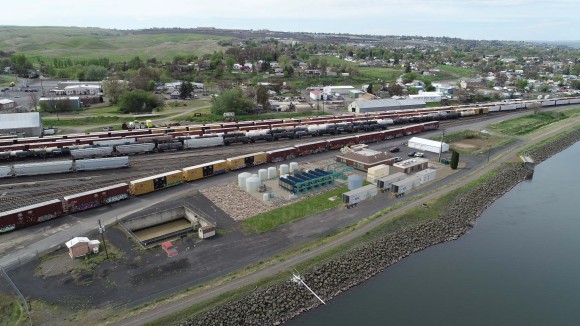 The Idaho Business Review article by Alex Stevens highlights the City of Lewiston's new water treatment plant project which retrofits the existing 100-year-old infrastructure.
"
The current water treatment facility is 74% beyond its useful life, having been built in 1924 and receiving minimal upgrades since 1979, said Carol Maurer, public information officer for the City of Lewiston. About 1.5 billion gallons of water from the Clearwater River is pumped annually for drinking water and irrigation. 

"(This) means reliability is at risk (and failure is possible)," said Maurer. "Staff has done a phenomenal job providing upgrades."

Prior to starting the project, the City of Lewiston and IMCO participated in several "pretty intense technical" workshops together, said Alannah Bailey, City of Lewiston engineering project supervisor. IMCO submitted the proposal after that. The city had initially thought a new water treatment plant would have to be built and was the only option.

"What really stood out (about IMCO) was some innovative thinking, some new approaches the city had not thought of," Bailey said. "We are enjoying the partnership; we are really happy with their performance; we think it's going to be a real good project."

"We think they picked the right team," Simmons said with a smile.

The part of the facility that will be demolished primarily focuses on processes called sedimentation and filtration, said Bryan Black, senior civil engineer for Stantec. What will remain is the computerized and other operation-related parts of the building, such as a laboratory, staff locker rooms and a water pump station that supplies the treated water...

"The city has been planning this for probably a decade; they've done a great job in the planning and securing the financing for it," said Black. "There's no question it has to be done."

The water treatment plant is expected to provide reliable drinking water for the next 20-40 years, according to project leadership, and Black added that the system's current piping structure will not need to be upgraded just yet to accommodate the plant's increased capacity. At its peak during the summer, the plant processes eight million gallons of water a day to just over 5,800 residential and business users. The new plant will have a capacity of 10 million gallons a day, with the capability to expand up to 16.5 million gallons a day, which will help accommodate future growth of the city. IMCO plans to use Building Information Modeling, commonly called BIM, to help the client visualize the new plant and how it operates in the square footage. GPS and other equipment will minimize needs for survey crews while ensuring accuracy of everything being put into place.

"Every square foot of real estate is precious," Simmons said. "We want to model and show to them before we move into construction. The City of Lewiston has taken a lot of time to (look into) the most suitable, reliable and most efficient procurement process for giving them and the community a good water treatment plant."



"
Article published in Idaho Business Review