IMCO Celebrates 40 Years in Business
Event Date:
Monday, April 30, 2018 - 4:00pm
A History of Resilience, Teamwork, and Adventure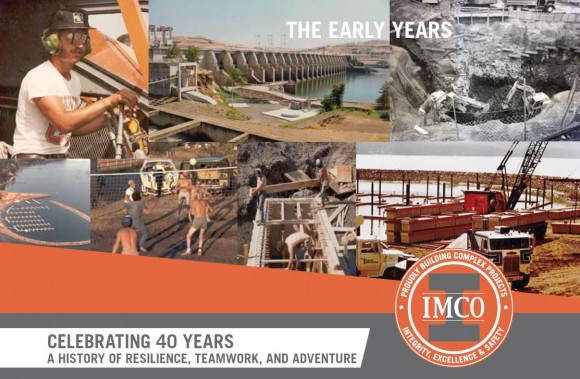 By Ashley Kimberley, IMCO Director of Marketing

This month marks 40 years in business for IMCO. The company began in April of 1978 when Patti and Frank Imhof took a small loan from Frank's dad, who was a dairy farmer in Ferndale, Washington. One of IMCO's first projects was a landscaping project for a relative in Whatcom County. Shortly after that, the company landed a big contract (nearly $350,000) working for Kitsap County; It was a challenging restoration project at Long Lake, cleaning and restoring the polluted lake. IMCO's team was hired to dredge the lake and build dikes out of sandbags to install a submarine pipeline and fish ladder for fish to go from the lake to a creek.
Growing up, Frank Imhof had every intention of becoming a dairy farmer, just like his dad. Frank's early morning habits started as a kid, getting up at 4:30 am to call in and milk 100 dairy cows. He loved working outside with his dad and still spends much of his time outdoors.
In 1966, when he fished high school, most young men either went to college or they were drafted and very likely to end up in the Vietnam war. Frank decided to try college. He had worked over 40 different jobs by the time he finished at Washington State University, where he majored in agricultural economics. Believe it or not, Frank was never fired.
Frank started working construction as a landscape laborer during the summer of 1967 at age 19. His first project was building a trail at Mt Baker Recreation Area. He loved the creativity it took to solve problems and figure out how to build the next job. It was always new and he enjoyed finding ways to be efficient and innovative. "I loved the people who worked construction. And the pay, to me, was fantastic!"
Frank says, "My biggest break ever was meeting Patti before we were ever in business. Sticking with her was the most important decision I ever made, and she helped me build IMCO into a great company."
Frank and Patti met in 1971 on a dance floor at the Iron Bull in Bellingham. Three days after that first dance, Patti asked Frank what he planned to do with his life. He wanted to be like a landscape contractor he had worked for on several jobs. She curiously asked who the contractor was. When Frank told her the name of the contractor he admired, Patti said, "Al Jansen is my dad!"
The same things that drew the Imhofs to the construction business over 40 years ago are the same things many of us love about this industry; It's always a new challenge; you find the best people; construction is full of diverse opportunity; innovation; and exciting projects building cool infrastructure. 
THANK YOU TO OUR EMPLOYEES, CLIENTS, SUBCONTRACTORS, AND PARTNERS. AS WE CELEBRATE 40 YEARS IN BUSINESS, WE ARE FULL OF GRATITUDE AND LOOK FORWARD TO MANY MORE YEARS OF WORKING TOGETHER TOWARD A VISION OF EXCELLENCE.
"I have worked 50 years in the construction industry, and it's time for me to give back to the industry I love," said Frank Imhof in an interview about his new role as the Associated General Contractors of Washington board president. "I love construction people. I want to give back to this industry because of everything it has given to me."
Many who have spent time around Patti and Frank have heard the story of how IMCO began by sharing office space with Patti's clothing store, The Clothes Trunk in downtown Bellingham. The back room was for tagging and steaming merchandise and held a decommissioned door that sat across two file cabinets and functioned as Frank's desk. The second phone line was IMCO's line, which The Clothes Trunk salespeople were instructed to answer by the second ring.
Over the years, IMCO grew to be more sophisticated, adding safety regulations and becoming the first construction company in the state of Washington to adopt a drug-free workplace policy. The Dalles Dam Hydroelectric project in 1990 was IMCO's largest contract to date, and the project was a game-changer. Rick Knowles started as a crane operator, and "a damn good one," he explained. Rick recalls being the first IMCO employee to be drug tested. Kip Smith, and Kelly Brown learned a lot of their wisdom at the Dalles and have looked back on the challenges and resilience it took to complete. IMCO had a fearless, wild west mentality. "We worked hard, we played hard, and Frank drove the bus," said Rick. "I knew you could do anything you wanted to if you had the right people on your team," said Frank Imhof.
Our team fully subscribed to the 'work hard, play hard' mentality. "No matter what, we always had fun," said Patti Imhof, reminiscing about the early years at IMCO. This led us on a dynamic journey, performing interesting, and demanding projects. One of the remarkable and fun things about IMCO's history is the diverse scope of projects we've completed. Our story has been peppered with challenges and accomplishments that have taken us from Kalamath Falls, Oregon to Guam, and from Shelby, Montana to Cuba. The two cities where we've competed the highest volume of work are Seattle and Moses Lake.
Project achievements include demolition projects, marine infrastructure, fish hatchery construction, hydroelectric projects including Ice Harbor Dam fish bypass and Tolt powerhouse projects in the mid-90s, working on the REC Corporation Expansion, completing the award-winning Anacortes Water Treatment Plant, upgrading runways at Paine Field, performing design-build services for Boeing and mining giant, Rio Tinto, performing sensitive Oso contracts for WSDOT and Snohomish County following the catastrophic landslide, and upgrading the I-90 tunnels between Mercer Island and Seattle with our largest contract to date.
Looking back on IMCO's success, Frank describes his gratitude toward our team. "We have wonderful people who have worked hard for many years. We have new people who have joined IMCO and are making great contributions. Our team has faced many tough situations and pulled us through; those professionals and their families are the backbone that defined our success."
The Imhof's succession planning led to Tyler Kimberley becoming IMCO's President in 2013. He is strategic in pursuing opportunities that are a good fit for our team. He has a strong commitment to investing in our people. His strategy also focuses on working for clients who value what we offer, who need creative problem solving to keep them operational. This means being able to say "no" to opportunities and clients that aren't part of our strategy. Tyler is dedicated to remaining nimble and innovative and tackling opportunities that our team is excited to build.
"IMCO's legacy and resilience give me confidence that we can seize the opportunities ahead of us and weather the challenges. We have a foundation of strong values to anchor us and the freedom to fulfill our vision of being the best," said Tyler.