IMCO Project Wins National Award
Event Date:
Wednesday, May 1, 2019 - 9:45am
Three Local Projects Win National Awards for Public Works in 2019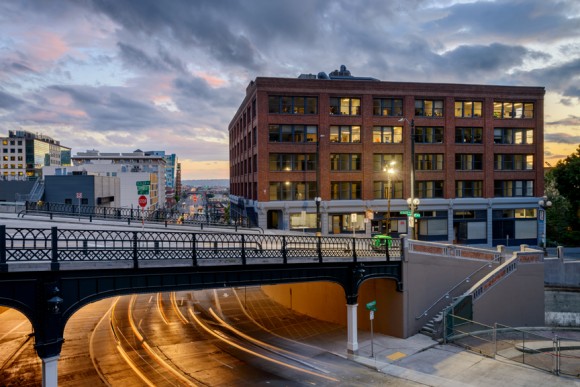 Written By JOURNAL STAFF
Seattle Daily Journal of Commerce
Three Local Projects Win National Awards for Public Works in 2019
Three projects in Washington state won 2019 Project of the Year awards from the American Public Works Association.
These projects will be honored at the national Public Works Expo, which is being held this year in Seattle (Sept. 8-11 at the Washington State Convention Center).
APWA's Washington State Chapter last week recognized eight projects, including the three national winners, at an event in Tacoma.
Each year, APWA chapters nationwide honor top public works projects in five categories: structures, transportation, environment, historical restoration/preservation, and disaster or emergency construction/repair. National winners are selected from them.
Here are the national winners from Washington:
• Yesler Way Bridge reconstruction. Built in 1910, Yesler Way Bridge is one of Seattle's oldest permanent steel roadway and original streetcar bridges. The bridge carries more than 6,000 vehicles daily, but the risk of catastrophic collapse from vehicle impacts meant that it critically needed safety improvements.
To preserve historical elements, multiple 3D scans were performed so the bridge could be analyzed after it was deconstructed. Those elements were cleaned, repaired, adapted, and in some cases, refabricated.
The project overcame significant challenges throughout design and construction, including unforeseen conditions. It was completed within the estimates and time frame approved by the city.
Category: Historic Restoration/Preservation ($5 million-$25 million)
Owner: Seattle Department of Transportation
Primary contractor: Imco General Construction
Primary consultant: HDR
A new Hunter Point Road bridge in Thurston County replaced a fish-blocking culvert. 
• Thurston County fish passage enhancement.When environmental reports looked dire, Thurston County completed the first comprehensive program to replace fish-blocking culverts in the region. Real estate excise taxes of $4.5 million funded the start of the program and its first project cycle (2017-2018).
The results were swift: The first adult fish in nearly 100 years passed underneath a new bridge carrying Hunter Point Road last November. Other counties across the state are using the project as a template.
Category: Environment (less than $5 million)
Owner: Thurston County Public Works
Primary contractors: Brumfield Construction, Boss Construction, Granite Construction
Primary consultants: Otak, KPFF, HDR
• Oak Harbor Clean Water Facility. Facing projected population growth and two aging sewage treatment plants with equipment failures, the city needed a new facility to meet modern performance standards but was adamant about protecting the environment. The new plant uses UV disinfection, which eliminates shipping of chemicals and keeps harmful byproducts out of the environment.
The team worked in seismically unstable ground, below grade and in water while managing the mass excavation of 50,000 cubic feet of soil. The area was also rich in artifacts, including some human remains.
Oak Harbor's Clean Water Facility replaced two aging sewage treatment facilities. 
The new plant has a 50-year lifespan.
Category: Environment (more than $75 million)
Owner: City of Oak Harbor
Primary contractor:Hoffman Construction
Primary consultant:Carollo Engineers
Here are the state level award winners:
• City of Pasco, Columbia Water Supply
• City of Spokane, North Monroe Corridor
• Skagit County Public Works, Illabot Creek restoration
• City of Vancouver, Grant Street Pier
• Lewis County, Coal Creek long-term bank protection
This fall's expo is expected to draw more than 5,000 public works professionals from North America and beyond. The awards event at the expo will honor 28 projects.