'SEATTLE DAILY JOURNAL OF COMMERCE' FEATURES MUKILTEO FERRY TERMINAL OPENING
Event Date:
Tuesday, December 29, 2020 - 8:00am
This article highlights the opening of the new tribal-themed Mukilteo Ferry Terminal.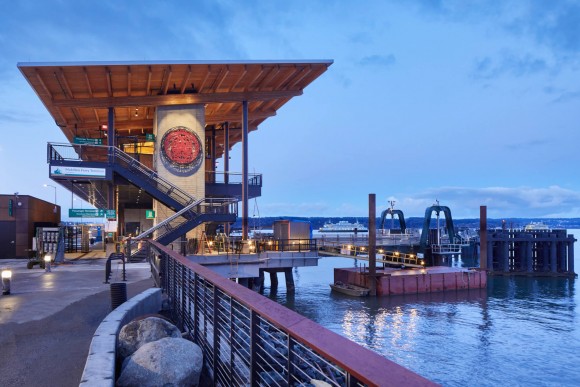 A link to the full article can be found here.
The terminal opened December 29, 2020 with the first vesel arriving at Mukilteo from Clinton. The DJC highlighted the collaboration and beauty of this new space. The terminal building and holding area create additional
 space for vehicle holding and separate pedestrian and vehicle boarding. The terminal was derived to reflect a longhouse. The design process included collaboration with seven Coast Salish tribes and incorporates work by local Native American artists throughout the building.
"
The design team was led by LMN Architects and KPFF Consulting Engineers. The centerpiece of the project is its two-story passenger building with elements of a longhouse in a 30-by-100-foot footprint. It is clad in cedar siding and has large glass windows facing Puget Sound that also channel daylight into the space.... 
Phillip Narte, WSF tribal liaison, said: "The ferry terminal has been the most challenging project I have been involved in due in part to the collaboration with 11 tribal governments, and the associated cultural and historical issues. I believe the project will become a model for how local, state and tribal governments can work together."
The project was designed to LEED gold standards, with solar panels, rainwater harvesting, natural ventilation, radiant floor heat, stormwater treatment, pervious concrete and rain gardens. Its roof is comprised of 84 cross-laminated timber panels supported by glulam beams.
In addition to the passenger building, the project has a toll plaza with four booths and seven vehicle holding lanes, a transit center for connecting to buses and trains, a waterfront promenade that will link up to a city park, and a new fishing pier that is slated to open in late February.
IMCO General Construction worked on the uplands part, including passenger building, promenade and toll plaza. Manson Construction and Orion Marine Construction performed in-water work under two separate contracts. Crews installed nearly 200 in-water piles to strengthen the soil for earthquakes; about 55 piles support the passenger building foundation....
The Mukilteo-Clinton route is a major transportation corridor, connecting Whidbey Island to the Seattle-Everett area. It handled over 2 million vehicles and nearly 4 million passengers yearly before the pandemic restricted travel.
"