'SEATTLE DAILY JOURNAL OF COMMERCE' FEATURES MUKILTEO FERRY TERMINAL OPENING
Event Date:
Tuesday, December 29, 2020 - 8:00am
This article highlights the opening of the new tribal-themed Mukilteo Ferry Terminal.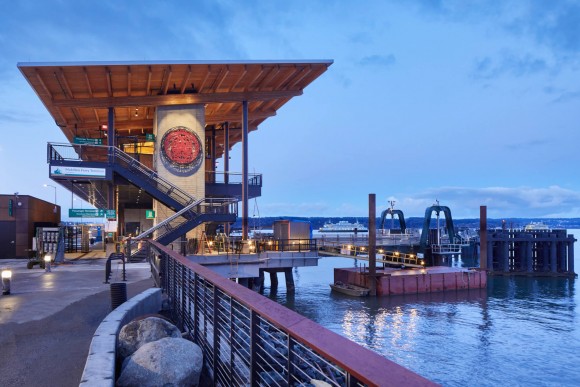 The Seattle Daily Journal of Commerce
By JOURNAL STAFF


Washington State Ferries plans to open its new $187.3 million Mukilteo multimodal ferry terminal tonight, with the first vessel scheduled to arrive from Clinton at 5:50 p.m.
"We're excited to welcome ferry riders and the public to our first new terminal in 40 years," said Amy Scarton, head of WSF, in a news release. "With its many green features and tribal-influenced design, it's unlike any other in the system."
The new terminal is at 910 First St., near Mukilteo Sounder Station and about one third of a mile east of the old ferry dock, which dates to 1957. The new terminal has more space for vehicle holding and separates pedestrian and vehicle boarding with an overhead walkway for safer, more efficient loading. Walk-on passengers will temporarily load via the car deck until the overhead ramp is complete in mid-February.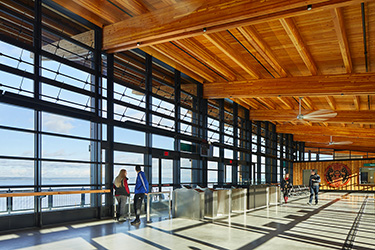 The design team was led by LMN Architects and KPFF Consulting Engineers. The centerpiece of the project is its two-story passenger building with elements of a longhouse in a 30-by-100-foot footprint. It is clad in cedar siding and has large glass windows facing Puget Sound that also channel daylight into the space. Elevators at the east and west ends lead to a linear promenade at the upper level, from which entries to the ticketing and waiting area are plainly visible.
LMN said the building's longhouse form was derived through collaboration with seven Coast Salish tribes. It was designed to enrich the passenger experience, streamline circulation and manage large patron flows with intuitive wayfinding. Tribal cultural motifs created by local Native American artists James Madison and Joe Gobin are displayed throughout the building.
Phillip Narte, WSF tribal liaison, said: "The ferry terminal has been the most challenging project I have been involved in due in part to the collaboration with 11 tribal governments, and the associated cultural and historical issues. I believe the project will become a model for how local, state and tribal governments can work together."
The project was designed to LEED gold standards, with solar panels, rainwater harvesting, natural ventilation, radiant floor heat, stormwater treatment, pervious concrete and rain gardens. Its roof is comprised of 84 cross-laminated timber panels supported by glulam beams.
In addition to the passenger building, the project has a toll plaza with four booths and seven vehicle holding lanes, a transit center for connecting to buses and trains, a waterfront promenade that will link up to a city park, and a new fishing pier that is slated to open in late February.
The old terminal will be removed from early to mid-2021.
IMCO General Construction worked on the uplands part, including passenger building, promenade and toll plaza. Manson Construction and Orion Marine Construction performed in-water work under two separate contracts. Crews installed nearly 200 in-water piles to strengthen the soil for earthquakes; about 55 piles support the passenger building foundation.
KPFF served as the prime consultant project manager, as well as the structural and civil engineer. Here are the rest of the firms that LMN listed on its team: FSi Consulting Engineers, mechanical and plumbing; Jacobs, electrical engineer; dark|light design, lighting; HBB Landscape Architecture, landscape; Ergosynch, communications systems; The Greenbusch Group, vertical transportation; Hart Crowser, geotechnical; Ilium Associates, signage design; and Washington State Ferries, security design.
WSF said because of COVID-19 restrictions, there will be no grand opening ceremony today.
The Mukilteo-Clinton route is a major transportation corridor, connecting Whidbey Island to the Seattle-Everett area. It handled over 2 million vehicles and nearly 4 million passengers yearly before the pandemic restricted travel.
A link to the full article can be found here.