Seattle Times Highlights New Opportunity for Darrington in Midst of Oso Landslide Anniversary
Event Date:
Tuesday, March 22, 2022 - 8:00am
Eight years after deadly Oso landslide near Darrington, new industry could change timber town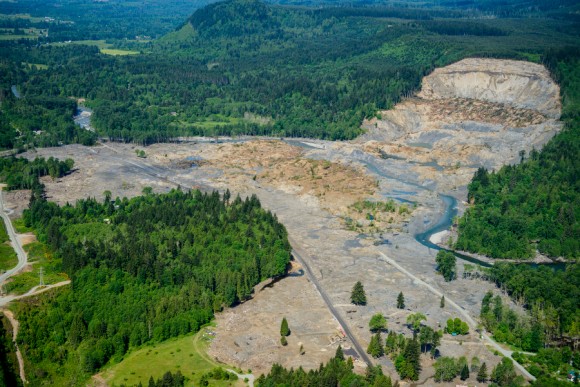 Article By Seattle Times Staff Reporter: Daniel Beekman 

To read the full article, click here.
DARRINGTON — Once upon a time, timber made Darrington. Now, it could remake Darrington.
That's the story Mayor Dan Rankin tells as he walks through the woods outside his mountain-rimmed community, which for decades has struggled with the decline of its old-school logging industry and which was traumatized eight years ago Tuesday by the deadliest landslide in U.S. history.
Rankin is the driving force behind a $120 million plan to develop a manufacturing hub for cross-laminated timber panels and modular housing. Work should break ground soon in the small Snohomish County town, which was Ground Zero for the landslide's emergency response.
Backed by the Seattle-based nonprofit Forterra, the Darrington Wood Innovation Center is supposed to invigorate the area with new technology and a more environmentally responsible approach, using timber from conservation harvesting to produce the panels, the panels to produce modular units and the units to build affordable housing across Washington. It's an exciting enterprise, though there are uncertainties..
Rankin wants to demonstrate how a rural community can thrive without discarding its heritage. While Darrington is also trying to attract tourists and the county has secured a state grant to support the installation of fiber-optic internet along the Highway 530 corridor, the mayor calls timber "part of our DNA." The CLT project is supposed to yield more than 120 jobs.
In CLT manufacturing, sheets of wood planks are stuck crosswise over each other and subjected to pressure or high-frequency waves. Computers cut the super strong, fire-resistant panels to size, with openings for doors, windows, wires — even screws.
Forterra is championing the plan partly because CLT can reduce the construction sector's reliance on concrete and steel, which require a lot of pollution to make, said Tobias Levey, the nonprofit's vice president of real estate transactions. Some University of Washington research has buttressed that idea, with caveats.
Rankin has high hopes. In theory, the Darrington hub will eventually include a vocational component to train local students for high-tech jobs and draw them back as adults. Today, many leave after high school, "never to return," he said.
Showing tenacity
Tucked between snow-capped peaks where the Sauk and Stillaguamish river valleys meet, an hour and a half northeast of Seattle, Darrington was established in the 1890s and grew with the timber industry. "Home of the Loggers" reads the side of the community center where the town's high-school basketball teams play.
Once thriving, the town was pummeled by the "owl wars" of the 1980s and 1990s, Rankin said, when loggers and environmentalists battled over how to manage the forests of the Pacific Northwest and protect animals. Today, Darrington has one supermarket and one gas station. Mountain ramparts loom above a square-mile street grid lined with low-slung houses.
There's still a sawmill, owned by Hampton Lumber, that remains the town's largest employer. But the median household income is about $37,700, half the statewide median, and the poverty rate is 20%, double the statewide rate, according to census estimates from 2019.
"We have million-dollar views up here, but not enough living-wage jobs to pay for them," said Perrault. "A lot of our kids are hurting."
The CLT plan and other community initiatives took shape, Rankin said, after a hillside collapsed between Darrington and Oso, destroying dozens of residences, killing 43 people and shutting down Highway 530 for months. The disaster known as the Oso landslide was a nightmare, but the way people in the area supported each other through tragedy was in Rankin's view a "horrible success," he said.
"We brought everybody home," the mayor said, referring to a harrowing effort that reclaimed every victim from the debris. "Everything stemmed from that … We showed the world our tenacity."
A link to the full article can be found here.