Statement of Solidarity
Event Date:
Monday, June 8, 2020 - 9:45am
A Message to Our IMCO Community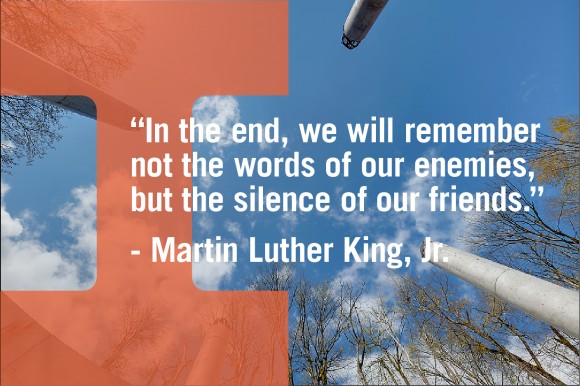 Martin Luther King, Jr. said, "In the end, we will remember not the words of our enemies, but the silence of our friends." This sentiment has been weighing heavily on us these past few weeks. We do not want to be silent about the racism and the pain prevalent in our country. We support Black communities and individuals. Please join in collectively taking a stand against racism. We urge you to engage in this conversation by spending time listening to the voices of people from diverse backgrounds, with experiences unlike your own.
Many are struggling to make sense of what has been happening across our country following the killing of George Floyd. We know racism is a reality with a long and deep history in our country. We still live with the consequences of America's history of slavery. It takes bravery to ask uncomfortable questions, learn about history, and really listen.
We are motivated and committed to hold ourselves accountable to work to dismantle systemic racism, to have difficult conversations, and to sacrifice our own comfort in order to support social justice for Black lives and communities. It is important that our fellow Black friends, employees and Americans hear that they matter. We want to build communities where people truly are treated with dignity and respect regardless of the color of their skin. We want IMCO to be a place where we truly celebrate diversity. We want our actions to show that Black lives are celebrated, respected, and matter. In stating that Black lives matter, in no way do we intend to devalue the lives of law enforcement or any other group or race. 
Here are some of the ways we are committed to the fight against racism:
Increasing opportunities for people of color by actively working to make IMCO a company that fights racism and promotes a diverse work force.
Determining how to reallocate IMCO's giving budget to better support organizations committed to dismantling racism.
Encouraging and engaging in difficult conversations to learn and hold ourselves and our communities accountable.
For those interested, the following resources have been helpful and have challenged our thinking this week, as we've been striving to learn from others even when it is uncomfortable. We are listening.
"The beauty of anti-racism is that you don't have to pretend to be free of racism to be an anti-racist. Anti-racism is the commitment to fight racism wherever you find it, including in yourself. And it's the only way forward." – Ijeoma Oluo, American Writer
There is much work to do, we want to do more to fight racism,
Tyler Kimberley, CEO/President
Ashley Kimberley, Director of Communications/Marketing
Frank Imhof, Founder/Chairman
Patti Imhof, Founder