TWO IMCO PROJECTS WIN 2022 AGC BUILD WASHINGTON AWARDS
Event Date:
Friday, May 20, 2022 - 8:00am
Boundary Dam and Mukilteo Ferry Terminal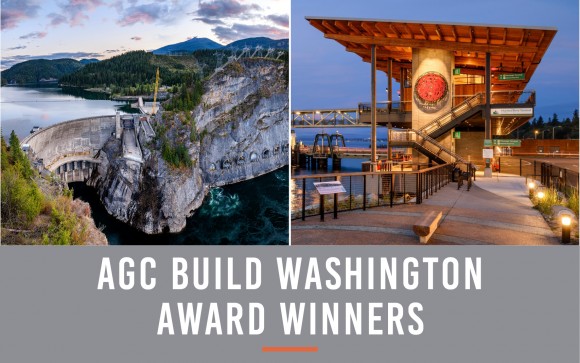 May 20, 2022
AGC Honors Top Projects, People and Safety
A link to the full news article by the Seattle DJC can be found here.
On May 19, AGC of Washington held the 2022 Build Washington Awards celebration at Seattle's Museum of Flight. The annual program recognizes members' top projects, programs, and people over the past year — this year presenting awards across 37 categories. The event was sponsored by Moss Adams.

"Congratulations to our 2022 Build Washington Award recipients!" said AGC 2022 president Dawn Stephens of Charter Construction. "It is amazing to once more see so many innovative programs, challenging projects and wonderful AGC members receiving their well-deserved recognition. The projects, companies, and individuals who have submitted, and those receiving awards, should all be proud of their contributions to the construction industry."
2022 CONSTRUCTION EXCELLENCE AWARDS
Mukilteo Ferry Terminal
Highway/Transportation (over $50M)
The Mukilteo Ferry Terminal project, Washington's first new ferry terminal in 40 years, enhances mobility for passengers traveling from Mukilteo to Whidbey Island, one of WSDOT's most active routes serving over 4 million riders annually. The new terminal improves safety and accessibility, reduces traffic along the waterfront, improves loading efficiency, and enhances train station access with new holding lanes and structures. With proximity to commuter trains via the Mukilteo Sounder Station, the terminal's walk-on ridership is expected to increase by 124% by 2040. The new facility is a beautiful public space on the Mukilteo waterfront with a new promenade connecting downtown Mukilteo to the beach, creating an elevated pathway for public use. The longhouse-style terminal building incorporates the cultural influence of the Pacific Northwest's native people, and boasts sustainable design features, having earned LEED Gold certification.
Boundary Dam Spillway No. 1 TDG Modifications Removal
Heavy/Industrial (under $5M)

Boundary Dam is located on the Pend Oreille River in northeastern Washington. The unique spillways are cut into the rock and oriented so that water discharges from both sides and meets midair to dissipate the falling-water energy that might otherwise erode canyon walls. It is the largest underground power-generation dam in the nation and provides nearly 50% of the power generated by Seattle City Light. The project goal was to remove total dissolved gas modifications made in 2016 and restore the spillway to original conditions. Stainless-steel roughness elements increased TDG in the river, adversely impacting the fish population, and structural concerns when struck by debris. Imco removed concrete and roughness elements with demolition equipment and by hand, decommissioned post-tensioned anchors, and placed reinforced concrete to match the existing spillway slope and contours. Significant fall hazards required heightened safety precautions. The work was completed in 10 weeks.