WSDOT Picks IMCO to Build $48M Mukilteo Ferry Terminal Building and Promenade
Event Date:
Wednesday, December 12, 2018 - 8:15am
The project includes a passenger building, holding lanes, toll plaza, and promenade.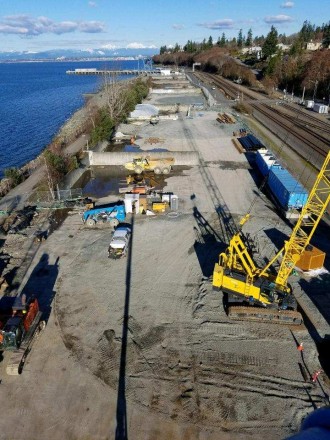 Written By BENJAMIN MINNICK
Journal Construction Editor, Seattle Daily Journal of Commerce
Crews from IMCO General Construction will return next spring to Mukilteo, where the state Department of Transportation is building a $167 million replacement ferry terminal.
IMCO recently was awarded a $47.95 million contract to build the upland elements that include the passenger building, promenade and toll plaza.
The Ferndale-based contractor last year was awarded a $2.26 million contract to install a deep water outfall for stormwater that it finished over the summer.
On the latest contract, IMCO beat Interwest Construction of Burlington ($51.52 million) and Contrack Watts Construction of Gig Harbor ($60.64 million). The engineer's estimate was $42.18 million, according to DJC records.
WSDOT broke the contract into two parts — separating upland elements from remaining marine structures — after rejecting five bids this summer that were substantially above the estimates. The engineer's estimate then was $56.98 million and Imco was the low bidder at $69.8 million for the base project.
WSDOT expects to seek bids for the remaining marine structures early next year. That will include items such as an overhead pedestrian walkway, vehicle transfer span and dolphins.
A WSDOT spokeswoman said the agency has about $20 million left over from the contract split, and will seek more funding from the Legislature, though the amount has not been determined.
The new terminal will be near Mukilteo Sounder Station, about one third of a mile east of the old ferry dock. There will be four toll booths, a transit center, and space for passengers, maintenance crews and supervisors. Separate loading systems for pedestrians and vehicles are planned.
LMN Architects designed the two-story passenger building, which will have elements of a longhouse in a 30-by-100-foot footprint. The exterior will be cedar.
LMN worked with the Coast Salish tribes on the design, as well as energy and water conservation measures. The roof will be covered with solar panels that will power the terminal for six months of the year. Cross-laminated timber will be used for the roof canopy.
Other green elements include natural ventilation, rainwater harvesting and stormwater treatment through pervious concrete in the vehicle holding area.
Orion Marine Construction over the summer finished the terminal's $4.65 million trestle and foundation, which will support the passenger building, vehicle loading ramp and overhead pedestrian loading facilities. Crews installed nearly 200 in-water piles to strengthen the soil for earthquakes; about 55 piles support the passenger building foundation.
IMCO's new contract includes demolishing the 60-year-old existing terminal, which has outdated components and a poor layout that leads to conflicts between cars and passengers.
WSDOT will open the new terminal in fall 2020 and then remove the old terminal.
In April, the DJC reported the team as: KPFF Consulting Engineers, prime consultant and designer for the building structure and the site's stormwater system; FSi Consulting Engineers, mechanical and plumbing; Jacobs, civil and electrical; Dark Light Design, lighting; HBB Landscape Architecture, landscape; Ergosynch, systems integration; ProDims, cost estimate; Tiscareno Associates, architecture support; The Greenbusch Group, vertical transportation; CM Design Group, stormwater; and Hart Crowser, geotechnical.
Pictures and more information on this article can be found here.