Grand Opening of IMCO's Meydenbauer Bay Park Project Scheduled
Event Date:
Monday, March 4, 2019 - 8:15am
$19M First Phase of Bellevue Park has Pedestrian Pier, Bigger Beach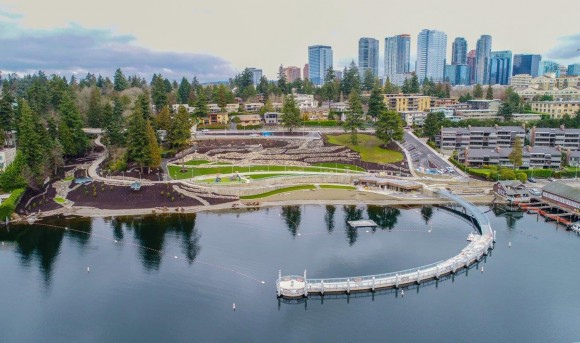 Written By JOURNAL STAFF
Seattle Daily Journal of Commerce
The city of Bellevue will hold a grand opening for an expansion and revamp of what is now called Meydenbauer Bay Park from 11 a.m. to 2 p.m. March 16 at 9899 Lake Washington Blvd. N.E.
The $19 million project relocated and expanded the swimming beach at what formerly was Meydenbauer Beach Park, built a new beach house with restrooms, changing areas and showers, remodeled the historic Whaling Building, and added a curving 420-foot-long pedestrian pier.
There's also a new hand-carry boat launch, pedestrian promenade, children's play area, pathways, picnic areas, restored shoreline, improving parking and a vehicle overlook and viewing terrace along Lake Washington Boulevard. Some power lines were moved underground and a pipe near the beach was removed to create a natural ravine.
City funds paid $14.5 million of the project cost, with the rest from Washington state grants, said Glenn Kost, planning and development manager for Bellevue's Parks & Community Services Department.
To make room for the expanded park and waterfront, the city bought 12 properties between 1993 and 2007 for about $43.5 million, he said. That included nine houses, two marina properties and Bayvue Village Apartments.
City funds paid $29 million of that, with the rest from Washington and King County grants and moorage fees.
This first phase involves 6.7 acres of what will eventually be 12.8 acres of parkland, Kost said.
In a future phase or phases, the city wants to extend the promenade through Meydenbauer Marina and up 100th Avenue Southeast; connect the pedestrian promenade to Downtown Park as part of Bellevue's "Grand Connection," a 2-mile path that would go from the waterfront through downtown and span Interstate 405 to connect with the Wilburton area; and reconstruct the marina.
The city has funding for planning and design for the next phase, which will start in 2020, Kost said.
The first phase team included Anchor QEA, lead designer; IMCO General Construction, general contractor; Salt Studio, architectural consultant; Perteet, surveyor and transportation engineer; Moffatt & Nichol, structural engineer; Cross Engineers, electrical engineer; Rainbow Consulting, mechanical engineer; and William Stewart Design, irrigation consultant.
Before it was a park, the area was a small village. Between 1914 and 1952, it was the off-season home to a whaling fleet. The Whaling Building was built around 1930.
King County transferred a small part of the site to the city in 1953, the same year Bellevue was incorporated. In the late 1950s the city bought three more parcels. The park opened in 1989 with the beach, a short pier and restroom building.
There will be activities and food at the grand opening.
A link to the full article can be found here.